In today's fast-paced world, our homes should serve as sanctuaries of relaxation and convenience. With the rapid advancement of technology, smart home automation has become a game-changer, offering an unprecedented level of control and comfort. In this blog, we will delve deeper into the world of smart home automation, exploring its various aspects and highlighting how Sattva's cutting-edge solutions can transform your living space into a haven of relaxation, efficiency, and luxury.
Lighting Control 
By leveraging Sattva's innovative lighting control solutions, you can effortlessly transform your living space into a haven of comfort and style. With intuitive control at your fingertips, you have the power to create the perfect ambiance for any occasion. Whether you're hosting a lively gathering or seeking a tranquil retreat after a long day, Sattva's lighting control feature allows you to adjust the color, intensity, and temperature of your lights with ease.
Experience the joy of stepping into a warmly lit room that aligns perfectly with your mood and enhances your overall well-being. Moreover, Sattva's lighting control solutions are designed to align with your body's natural Circadian Rhythm. This means that the lighting levels will adapt throughout the day, supporting a healthy sleep-wake cycle and promoting optimal relaxation.
Not only does Sattva's lighting control enhance your comfort and elevate your living environment, but it also brings significant energy-saving benefits. With the ability to adjust the intensity of your lights and schedule automated lighting patterns, you can optimize energy usage and reduce your electricity bills. Sattva's commitment to sustainability and efficiency ensures that you can enjoy a beautiful and environmentally conscious home.
Curtain Control :
Upgrade your living space with Sattva's cutting-edge curtain control solutions. Say goodbye to the manual chore of opening and closing curtains and embrace the convenience of automation. By seamlessly integrating motorized blinds and curtain motors into your smart home system, you can effortlessly manage the privacy and natural light in your space. Experience the freedom to create schedules that perfectly align with your daily routines or make instant adjustments with a simple voice command. With Sattva's curtain control feature, you have the power to enhance your ambiance, whether you desire a sunlit haven or a cozy retreat. Enjoy the convenience and control that curtain automation brings to your smart home, making your life easier and more comfortable. Upgrade to Sattva's innovative curtain control solutions today and unlock a new level of convenience and luxury in your living space.
Climate Control :
Achieving the ideal temperature in your home has never been easier thanks to Sattva's climate control feature. With a smart app or wall panel, you can effortlessly manage your air conditioner or heating appliance. Schedule automatic adjustments based on your preferences and daily routines, ensuring optimal comfort while saving energy and reducing electricity bills. Imagine walking into a perfectly climate-controlled environment, regardless of the weather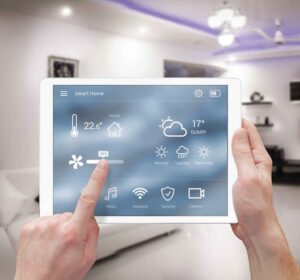 outside. Sattva's climate control solutions offer personalized comfort at your fingertips, enhancing your overall well-being and maximizing the lifespan of your appliances.
Security and Access Control :
When it comes to smart home automation, security and access control play a vital role. Sattva's solutions provide unparalleled peace of mind. With your smartphone as the key, you can lock and unlock your doors, monitor security cameras, and view visitors at your doorstep, all from a unified interface. Biometric smart locks eliminate the risk of lost or stolen keys, offering secure and seamless access. Even when you're away, remote access allows you to manage your home's security, granting access to guests or adjusting settings as needed. Rest easy knowing that your home is protected, wherever you may be.
The Complete Smart Home Automation Solution :
Sattva's complete smart home automation solution offers an array of features that go beyond traditional control systems. With seamless integration of lighting, curtain, climate control, and multi-room audio and video capabilities, you can create a truly immersive entertainment experience. Imagine enjoying your favorite music or movies in every room, synchronized and easily controlled through your smart devices. With Sattva, you can set the mood and ambiance with a simple voice command or tap on your smartphone.
Our solution simplifies the process of synchronizing audio and video across multiple rooms, allowing you to host a cinematic experience at home. Control all your entertainment devices with a single app or voice command, eliminating the need for multiple remotes. With Sattva's multi-room audio integration, you can create custom playlists and adjust volume levels in each room, enhancing the overall experience for you and your guests.
Experience the convenience and luxury of a truly connected home. Transform your living space into a hub of entertainment and convenience with Sattva's comprehensive smart home automation solution. Elevate your entertainment experience, simplify your life, and embrace the future of smart home automation with Sattva today.
Conclusion :
In conclusion, smart home automation has revolutionized the way we interact with our living spaces. Sattva's innovative solutions empower you to transform your home into a haven of relaxation, efficiency, and luxury. From lighting and curtain control to climate control, security, and multi-room audio and video, Sattva offers a comprehensive suite of cutting