Engineered Innovation, Excellence Of Sound
The new line of Ceiling Speakers from Russound incorporate the latest advances in material technologies. They've been designed, manufactured and tuned with great care so your listening experience is as rewarding as possible. Our range of speaker solutions provide excellent choices in any application – from the budget-minded to audio-purists. Each speaker includes Easygrip™ and the IC-620, IC-820, and IC-630 include Swiftlock™ for effortless installation at the push of a button. Whether in-wall or in-ceiling, these speakers provide perfect choices for multi-room audio, home theater, primary listening and many more.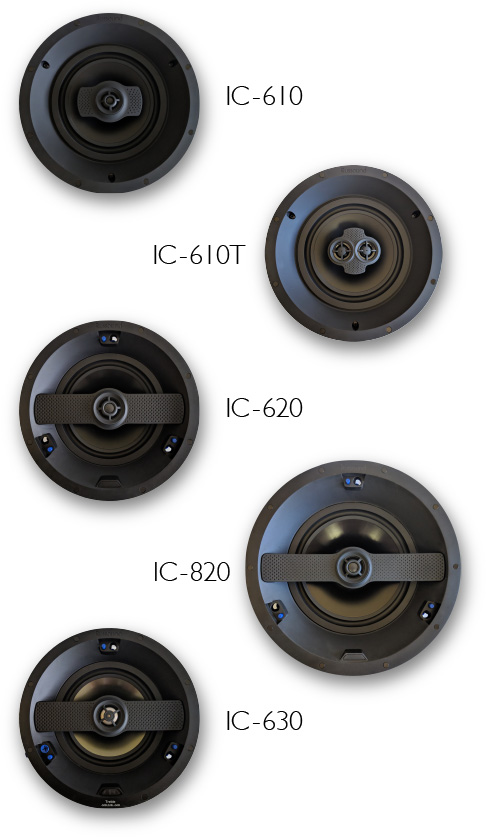 IC-610 - Two-Way In-ceiling
Designed for background listening
Pin-cushion, Easygrip™ Design for one handed install
Integrated one-piece baffle/woofer basket design for enhanced rigidity and more efficient bass
IC-610T - Single Point Stereo In-ceiling
Designed for small rooms, hallways or anywhere that stereo speaker placement is difficult
Dual Tweeter and Dual Voice-Coil Woofer
IC-620 - Two-Way In-ceiling
The perfect choice for all primary listening areas of the home
Swiftlock™ tool-less quick and easy installation
IC-820 - Two-Way In-ceiling
Use instead of the IC-620 for larger rooms, rooms with higher ceilings and for deeper bass response
Swiftlock™ tool-less quick and easy installation
Acoustically matched with the IC-620 – mix and match in a home as needed
IC-630 - Two-Way In-ceiling
Enhanced frequency response designed primary speakers for enjoying music and audio in any home
Excellent for both music and TV/movie/home theater use
Swiftlock™ tool-less quick and easy installation
MBX Streaming Audio Solutions
The two new products in the MBX family are dedicated to wireless streaming – The MBX-AMP is a full-featured streaming audio player with a built-in amplifier; the MBX-PRE is a preamp-only (non-amplified) version. These new streaming MBX products give you the flexibility and reliability needed to satisfy the needs of any clientele. And they deliver high-quality music performance that today's customers demand. And now with the ability to take voice commands from Amazon's Alexa and Google Home, these new streaming products are a welcome addition to any customer's home entertainment functionality with simple Voice Control.
MBX-PRE – Wi-Fi Steaming Audio Player
Integrate a streaming source into any MCA Controller
Connect to any amplifier or receiver as a streaming audio source
Control via the MyRussoundTM App or XTSPlus in-wall touchscreen
Mix and match with other Russound MBX-Series products for up to 32 streaming zones
MBX-AMP – Wi-Fi Steaming Zone Amplifier
2.1 Channels, 50 watts per channel @ 8 ohms
Connect to your TV to improve your TV audio and share speaking with your streaming audio system
Integrated IR Learning for Vol+, Vol- and Mute of any TV
IP Controllable – Works with 3rd party control systems
Connects to your network via Wi-Fi or a wired Ethernet connection
Built-in Bluetooth® audio support